Wednesday, July 12, 2006
The boys just woke up and watched my dad(I felt I should clarify since not everyone know's that cornbread is our version of grandpa) on the computer. You can still see the sleepy eyes.
Posted by

treyandabe
at 11:10 PM
No comments:

Monday, July 10, 2006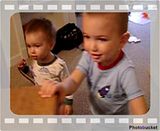 Here are Trey and Abe watching the blog video that Nonna sent...They are in the "zone" the whole time.
Posted by

treyandabe
at 12:19 PM
1 comment: